EVERY VEHICLE REVEALS A STORY
ABOUT ITS OWNER
Wheel Craft's propriety PVD Chrome finishing process forms a protective glove around the entire wheel and provides unmatched protection from: Brake Dust Burns and Discoloration, Alloy Corrosion, Seasonal Street Chemicals, and more.   Wheel Craft Finishes are easy to clean with soap and water and are fully guaranteed under our exclusive five year warranty.
If you are thinking of upgrading the finish of your prized weekend show car or your daily driver, call Wheel Craft to learn more and receive the World's highest quality wheel finish.
WE WILL FIX YOUR
DAMAGED WHEELS
Wheel Craft's expert craftsman apply their skills to remove cosmetic damage from curb rash and other unexpected contact.   We are even able to correct corrosion and damage to your alloy wheels caused by faulty clear coat and weathering.
Use the slide to see amazing before and after images of a BMW wheel that suffered cosmetic damage associated with peeling clear coat and curb rash.   Our team corrected the wheel surface and applied our Black ICE finish to restore this wheel to an amazing Better Than New appearance.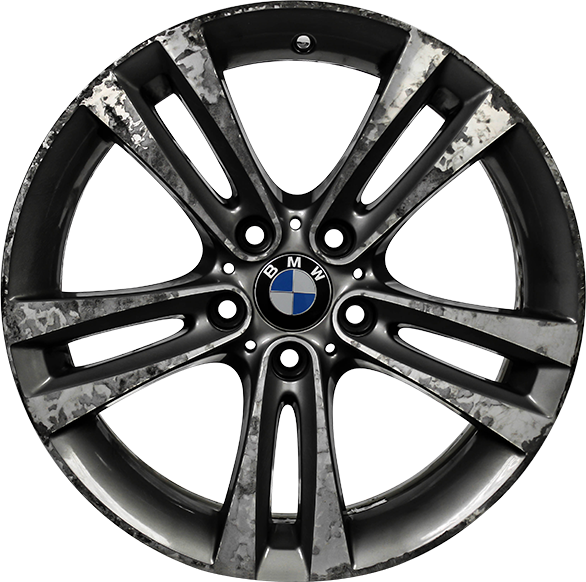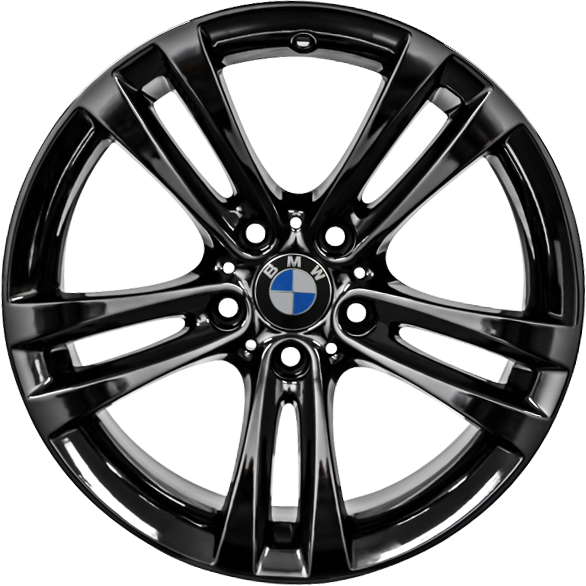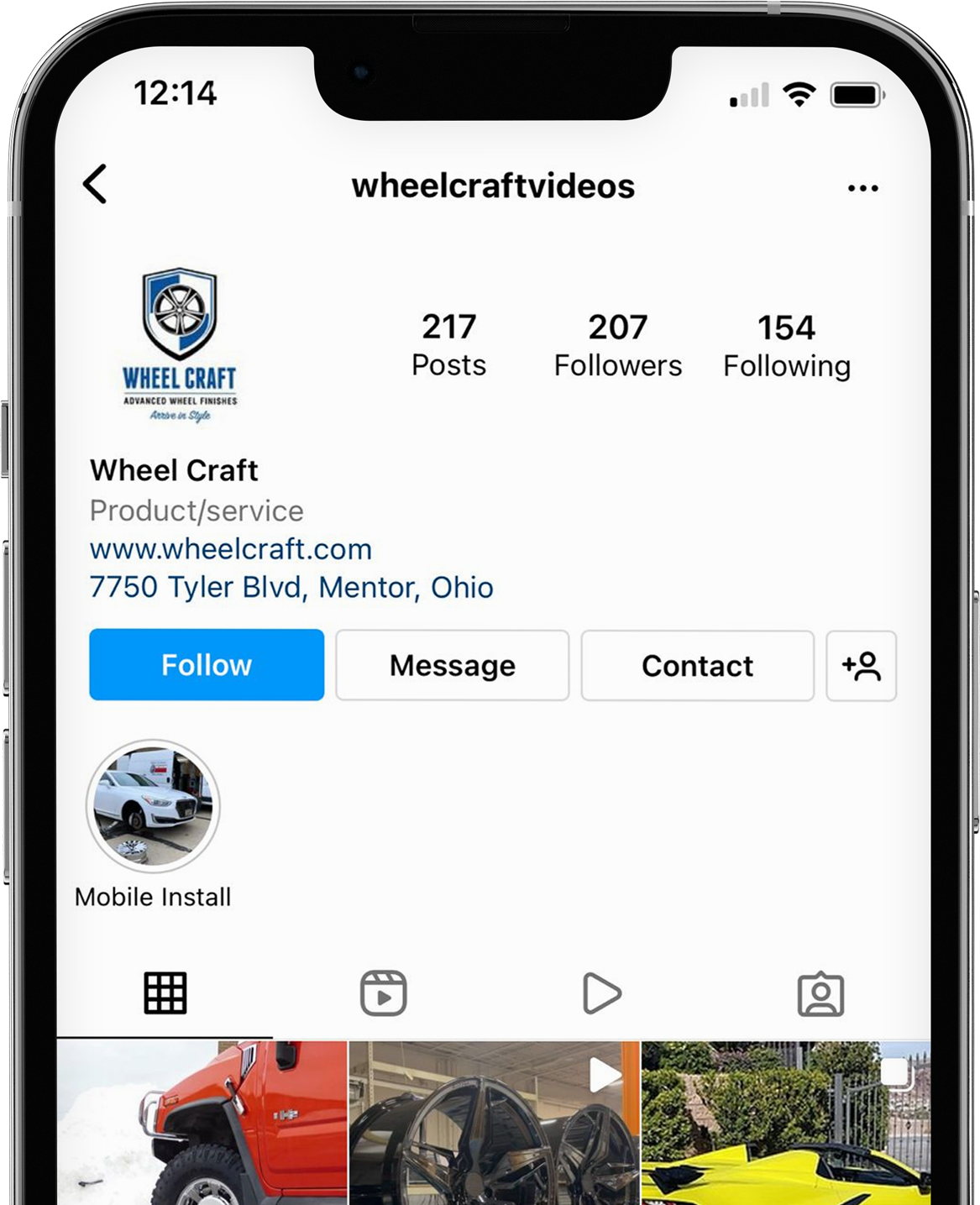 What our customers are saying…
This company is amazing we had a 24 inch rim Crack in the inside lip of the wheel. They are very professional and they do very clean work. I highly recommend them. They also have a also tire service they work with as well. Long story short Wheel craft is fast friendly very fairly priced. I highly recommend these guys. There awesome very professional services here.
I had My wheels PVD from this business and I want to tell you I had some of the best/friendly/professional service I've ever had in my entire life ! Eric, a top-notch salesman, greeted me in the parking lot as I was pulling in motioning me to park, so Abby could take pictures before and after of my Z06. Eric had taken time to show me through the process of the coatings they do. Skip took time and explained the process to me. Some of the nicest people I've ever met, the mounting and balancing. Service they use is fast and reliable and friendly and I'm here to tell you those wheels look as good as Chrome.!!!I would recommend anybody having their wheels done super Top-Notch friendly, professional service.And I thought the price was extremely fair. Ask for Eric.🇺🇸Sincerely, Ronnie Parks🏁
Virginia D.
22:11 13 Aug 23
Fantastic experience ! I couldn't be more pleased with the product and service they provided. I been wanting to upgrade the look on my Corvette. After seeing their product on a friends car … I knew this was what I wanted. Thank you Ed, Abbe and Will for all your help getting my wheels done.Photo: 2002 Corvette Coupe with "Black Ice" on Factory Rims
Great product, better service I wanted the chrome wheel look for my C8 Corvette and saw their work at Bloomington Gold last year. I got a quote and moved forward. Their service could not have been better. They found an installer that could be trusted, shipped to them and my wheels were exchanged and shipped back without me touching them. When I was done and satisfied I paid my bill. Couldn't be happier with the look or experience
Best in the U.S. if you ask me. I recently have a set of staggard 20" wheels refinished in their "black ice" finish also known as black chrome... It really completes my car. Great work by Eric and his team
Great company to work with! Their work is first class!
My experience with everybody at wheelcraft exceeded all my expectations ! They do business today like it was done 50 years ago !They give u time , answers, and follow through like you are family !!! The wheels are gorgeous and arrived in puuurfect shape on the day guaranteed ( Novel) with all the return paperwork included !!!!Shop WITH CONFIDENCE !!!!!Who else is soooo sure of their product that the DONT even get paid BEFORE SHIPPING !!!!You have to b pretty darn sURE that people are going to LOVE THE PRODUCT AND SERVICE TO NOT DEMAND YOUR PAYMENT PRIOR TO SHIPPING !!!!
Superior products and great service from caring people!
Mary Alice F.
02:33 11 Nov 22
Great quality. Bright Ice finish looks like chrome - awesome. WC takes care of shipping back and forth - no hassle for the customer. Eric is great to work with. No money up front - they don't collect until your wheels are back on your car and you are happy.Phenomenal company to do business with!
quality service, wheels and knowledge at a good price. what a pleasure of doing business with you. thanks for everything.
What an Amazing experience!!! I mean it 100% and I rarely give reviews. From the first call to the last call to pay for the job, I was awestruck with the communication and service I received from Eric L. He kept me updated throughout the entire process and he went above and beyond to help locate the rivets that were essential to the final look of the wheels. Now for the wheels, they look better than I ever could have pictured. As for cost, so reasonable worth every penny, my wheels look better than the first day they were mounted. Thank you, Eric and Team, for making this experience memorable.
Fantastic work, great customer serviceThank you
Beautiful work!! Absolutely loved getting a tour explaining exactly what the process was to achieve each of the different types of finishes 👏
Paul Mullett J.
17:06 05 Jul 22
I just had my Cadillac rims done and they are better than Factory. I am going to have my other Cadillac and Camaro done next. I HIGHLY recommend them if you are a car nut like me and want your rims to be perfect.
Michael V.
14:00 21 May 22
I had curbed one of my wheels very badly. Wheel craft repaired the wheel and refinished all of my wheels to a very high standard. They look incredible and the turn around time was within a week
After months and months of me waiting to get my 2nd vehicle delivered to the dealership so I could bring them my Mustang GT wheels, these guys remained cordial and very understanding throughout.Ok, so I finally get them up there and what happens?!! Eric Lemmer, the guy I was in contact with for all those months...gives me a full tour of their facility!! Explaining each processing step along the way, and answering any questions I asked. Also met a couple other really nice employees during my "private" tour! Enough said about their excellent customer service!Now on to the wheels. They said 3-4 days turnaround time, and that's exactly what happened, my wheels were ready for pick up in 4 days!!I am very well pleased with my wheels, they did an absolutely fabulous job on them!!! I couldn't be more pleased with the entire experience from start to "finish",pun intended!!!These guys do great QUALITY work!!!
Repair is perfect as was the finish, matched perfectly, unbelievably quick turn, fair price and all topped off with Great Customer Service - Can't ask for more!I will be back as will my friends!
I contacted Wheel Craft after seeing a post on Mid-Engine Corvette Forum. They provided a thorough explanation of their process and a very good quote for swapping my trident 5 spoke factory wheels on the corvette with a Black Ice set. I had an initial issue with some imperfections and these were corrected without hesitation on their part. The final product is fantastic and would not hesitate to use them again for other wheels. I highly recommend them.
Wheel Craft has a great product. These wheels are amazing and have changed the entire look and feel of my car. Plus, their customer service is second to none. We had false start (entirely my fault) and Wheel Craft made it right, no questions asked. They wanted me to be satisfied with the wheels. Mission accomplished. I am a fan for life and recommend Wheel Craft for anyone looking for a high quality finish wheel to complement your luxury vehicle.
Superior quality, fair pricing, and excellent customer service!
Best customer service!! Kept me informed on the progress. Awesome work on my rims!! Won't use anyone else in the future. Highly recommended. Competitive prices.Talk to Eric or Ed. Great job guys!!!!!
They provided me with a incredible black ice-11 product along with great honest service. I had contacted many powder coating companies and never felt confident with any of them. Wheel Craft was amazing. I would highly recommend them.
I was very pleased with the services provided. I worked with Eric and Ed. The price I paid was reasonable and the job was performed well and on time. I would not hesitate to recommend them to others. Thank-you guys for a job well done!
Samuel Mack J.
12:24 14 Feb 22
I really can't say enough about the service and quality of Wheel Craft.I had my wheels restored and they are better than when they were new.Working with Ed and Eric was a pleasure they did everything they said they would and in less time than they promised.I also got new tires from MTS their mobile tire service.Good price and Joe and his son were very professional and on time for both appointments.Thanks everyone for a great experi
I contacted Wheel Craft to have the wheels on 535xi refinished. The whole process was very smooth and efficient. Pittsburgh Mobile Tire came to my home and removed wheels and transported them to Wheel Craft. Brandon discovered I had a defect in one of my tires that I was unaware of. I was completely satisfied with both companies services. The wheels met my every expectation and look fantastic! I highly recommend them both. Thanks again Ed and Brandon.
Overall excellent experience with Wheel Craft. Quote was very quick, service and product are first rate. The price was very reasonable, core exchange included shipping and the return of the core wheels. Could not be happier with the experience. Highly recommend.
Ed, is the best excellant customer service my wheels look great.
Gregory B.
17:47 24 Dec 21
Great company, great wheels!
Wheel Craft did an amazing job on my Dodge Viper wheels. They converted my dull polished aluminum wheels to their Bright ICE "chrome" finish. The wheels shine like glass now! The entire process was as painless as can be. They met me halfway to dismount and remount the tires, and kept in constant contact during the entire process. Very professional, top-tier service. Thanks, Wheel Craft!
Eric was very helpful and got back to me immediately for quoting and finishing my Tesla wheels. Excellent service and a quality product.
Wheel Craft did a fantastic job on the base 5-spoke wheels on my new C8 Corvette. The Bright Ice finish really enhances the appearance of the car beyond my expectations.Eric Lemmer did a great job of answering my questions and concerns throughout the whole process. I would highly recommend Wheel Craft and use them again on future vehicles. They are a first-class organization.
Wheel Craft refinished wheels for Lincoln with Black Ice. Finish quality was excellent and wheels look like new. Local tire shop was impressed by the finish. The customer service is outstanding with about 1 week turnaround. The business model is based on quality and service. They also offer the best warranty I could find. Already planning my next mod with Wheel Craft.
Wheel Rim had about 2.5 inches of road rash, the wheel looked perfect after repair. Fast service at a reasonable price. Would highly recommend there service for repair and rework of your rims.
Great and friendly service with reasonable pricing
Michelle S.
17:19 13 Jul 21
Hands down the best customer service I have ever experienced. I worked with Eric and he was awesome. I had the wheels from my 2014 Corvette finished in a special finish that falls between the Black Ice and the Midnight Ice. Eric provided boxes and labels for shipping and was in constant communication during the process to ensure that I was happy. I couldn't be more pleased. If you need wheels refinished and some curb rash repaired make sure to give Wheel Craft a try. You won't regret doing business with them. Thanks Eric and Ed, it was great working with you.
Had the bright ice finish done on my OEM factory 2013 Jaguar. They did an awesome job! bought the car used, all four wheels had some road rash that needed attention. I could not have been more please! They look better than new. Very professional owner and staff!
Wheel Craft refinished the wheels on my 2020 ram 2500, we went with the Matt black, and it looks amazing. The factory Matt black from ram had a grey-ish hue to it, wheel craft knocked it out of the park with a TRUE Matt black. The wheels have already gotten tons of looks and compliments even with the ice and snow in the Cleveland area. People recognize the quality and perfection.Wheel craft also offered a phenomenal service of having a professional on site to mount and balance my wheels and tires. It is an exceptional service offered to get the trucks new wheels back on the road.I would give wheel craft 10 stars if I was able to. Worth every cent to bring a special "pop" to the factory wheels on my ram.
Amazing,Friendly and professional from owner to employees. Thank you
LEARN WHAT SETS
WHEEL CRAFT APART
Read our latest blogs to learn more about our unique technology, as well as industry news and trends.
LET'S GET IN TOUCH TODAY!